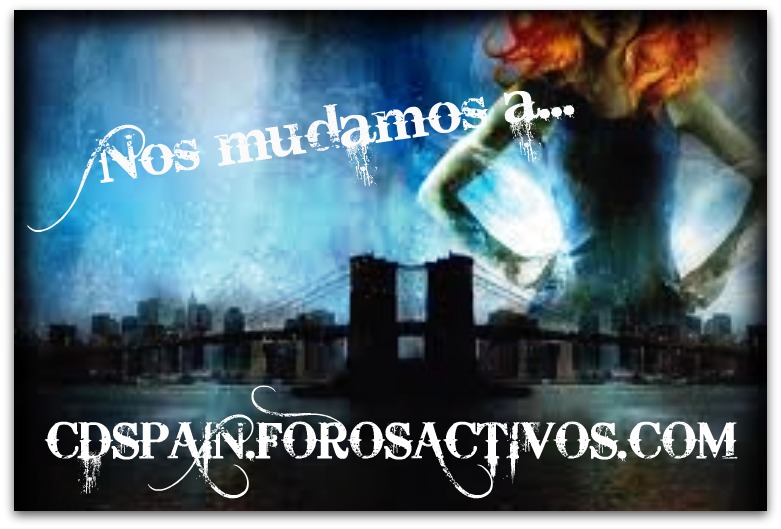 Cazadores De Sombras
Facilis Descensus Averno

| | | |
| --- | --- | --- |
| | Partes inéditas...de los libros [Spoilers en ingles] | |

Autor
Mensaje
m32j
Mundano





Tema: Partes inéditas...de los libros [Spoilers en ingles] Lun Sep 07, 2009 12:07 am

---

Parece que hay algunas partes que la escritora quitó o recortó. Lo bueno.... son nuevos, lo malo... ESTAN EN INGLES. Alguien por favor que traduzca . Aqui se los dejo

:

DEL 3º LIBRO:

Spoiler:

excerpt
The roar of the collapse faded slowly, like smoke dissipating into the air. It was replaced by the loud chirruping of startled birds; Clary could see them over Jace's shoulder, circling curiously against the dark sky.
"Jace," she said softly. "I think it's over."
He drew back slightly, propping himself on his elbows, and looked down at her. They were close enough that even in the darkness she could see herself reflected in his eyes; his face was streaked with soot and dirt, the collar of his shirt torn.
Without thinking, she reached up, her fingers brushing lightly through his hair. She felt him tense, his eyes darkening.
"There was grass — in your hair," she said by way of explanation. Her mouth was dry; adrenalin sang through her veins, and not just because of the danger she'd just been in. Everything that had just happened: the angel, the shattering manor, seemed less real than what she saw in Jace's eyes.
"You shouldn't touch me," he breathed.
Her hand froze where it was, her palm against his cheek. "Why not?"
"You know why," he said, and then, 'You saw what I saw, didn't you? The past, the angel. Our parents."
"I saw."
"You know what happened."
"A lot of things happened, Jace —"
"Not for me." The words breathed out on an anguished whisper. "I have demon blood, Clary. Demon blood. You understood that much, didn't you?"
"It doesn't mean anything. Valentine was insane. He was just ranting —"
"And Jocelyn? Was she insane?" His eyes bored into her like golden drills. "I know what Valentine was trying to do. He was trying to create hybrids — angel/human, and demon/human. You're the former, Clary, and I'm the latter. I'm part monster. Part everything I've tried so hard to burn out, to destroy."
"It's not true. It can't be. It doesn't make sense—"
"But it does." There was a sort of furious desperation in his expression as he looked down at her. She could see the gleam of the silver chain around his bare throat, lit to a white flare by the starlight. "It explains everything."
She shook her head so hard that she felt grass tickle her cheek. "You mean it explains why you're such an amazing Shadowhunter? Why you're loyal and fearless and honest and everything demons aren't —"
"It explains," he said, evenly, "why I feel the way I do about you."
Breath hissed between her teeth. "Jace — what do you mean?"
He was silent for a long moment, staring down at her — for so long, in fact, that she wondered if he ever planned to speak at all, or if just looking was enough; after all, she was staring at him just as helplessly. Their gazes were locked like gears; she could no more have looked away than she could have breathed with water in her lungs.
"You're my sister," he said, finally, "My sister, my blood, my family. I should want to protect you —" he laughed soundlessly and without any humor — "to protect you from the sort of boys who want to do to you exactly what I want to do to you."
Clary's breath caught. He was still looking down at her, but his expression had changed — there was a look on his face she'd never seen before, a sleepy, deadly, almost predatory light in his eyes. She was suddenly and acutely conscious of the hard pressure of his body on her body, the bones of his hips fitting themselves against hers, and she ached everywhere that she didn't touch him, ached with a nearly physical pain.
What I want to do to you, he had said. Not thinking of anything else but how much she wanted him, she let her fingers trail down his cheek to his lips, outlining the shape of his mouth with the tip of her index finger.
She was rewarded by the catch in his breathing, the sudden darkening of his eyes. He didn't move.
"What is it, exactly, that you want to do to me?" she whispered.
The light in his eyes was a blaze. Slowly he inclined his head until his lips were against her ear. When he spoke, she felt his breath tickle her skin, making her shiver: "I could show you."
She said nothing. Even if she could have gathered her scattered thoughts to compose the words, she didn't want to tell him to stop. She was tired of saying no to Jace — of never letting herself feel what her body wanted her to feel. Whatever the cost…
She felt him smile, his lips against her ear. "If you want me to stop, tell me now," he whispered. When she still said nothing, he brushed his mouth against her hollow of her temple, making her shiver. "Or now." His lips traced her cheekbones in the lightest of kisses, a butterfly kiss. "Or now." His mouth traced the line of her jaw. "Or now." His lips were against hers, his words spoken into her mouth. "Now," he whispered, and kissed her.
At first the pressure of his lips was gentle, seeking; but when she responded instantly — sliding her arms around him, tangling her hands in his hair — she felt the cautious tension in his body change to something else. Suddenly he was kissing her with a bruising pressure, his lips crushing hers. She tasted blood in her mouth, but didn't care. There were rocks digging into her back, and her shoulder ached where she'd fallen from the window, but she didn't care about that either. All that existed was Jace; all she felt, hoped, breathed, wanted and saw was Jace. Nothing else mattered.
He broke off the kiss, drawing back, and she released him with a soft noise of reluctant protest. His mouth was swollen, his eyes huge and dark, nearly black with desire. He reached for the buttons of her coat, tried to slip the first one free, but his hands were shaking so badly he couldn't manage it. Clary put her hand over his, marveling inwardly at her own calm — surely she should be shaking as badly as he was?
"Let me," she said.
He went still. He watched her as she undid the buttons, her fingers working as fast as they could. The coat fell open. Beneath it she was wearing only a thin blouse of Amatis' and the cold night air struck through the material, making her gasp. She raised her arms up. "Come back," she whispered. "Kiss me again."
He made a stifled noise and fell into her arms like someone coming up for air after nearly drowning. He kissed her eyelids, her cheeks, her throat, before returning to her lips: their kissing was frenzied now, almost clumsy in its fever — so unlike Jace, who never seemed to rush, or to hurry anything . . . Without the coat between them, she could feel the heat of him, burning through his shirt and hers; his hands slipped around her, under her the strap of her bra, tracing her spine, his touch scorching her bare skin. She wanted more of his touch, his hands on her, his skin on her skin — she wanted to be touching him everywhere, to hold him while he trembled like he was trembling now —and for there to be no more space between them.
She tugged his jacket off and then somehow his shirt was off, too. Their hands explored each other's bodies: she ran her fingers down his back and felt soft skin layered over lean muscle, and something she had not expected, though she should have — scars, like thin wires laid across his skin. She supposed they were imperfections, these scars, but they didn't feel that way to her; they were the marks of Jace's history, cut into his skin: the raised, topographical map of a life of killing and fighting.
She stroked the star-shaped scar on his shoulder and raised herself up to brush her mouth across it. Something banged against her collarbone with a sharp cold shock. She drew back with an exclamation of surprise.
Jace raised himself up on his elbows to look down at her. "What is it?" His voice was slow, almost drugged. "Did I hurt you?"
"Not really. It was this." She reached up and touched the silver chain around his neck. On its end hung a small silver circle of metal. It was ice cold to the touch.
That ring — the weather-beaten metal with its pattern of stars — she knew that ring.
The Morgenstern ring. It had been Valentine's, and Valentine had passed it along to Jace, as it had always been passed along: father to son.
"I'm sorry," Jace said. He was tracing the line of her cheek with his fingertip, a dreamlike intensity in his gaze. "I forgot I was wearing the damn thing."
Sudden cold flooded Clary's veins. "Jace," she said, in a low voice. "Jace, don't."

Editado por Karela

m32j
Mundano





Tema: MAS AQUI Lun Sep 07, 2009 12:08 am

---

mas aqui

Outtake 1

Spoiler:

Outtake from City of Glass: Clary, Sebastian, and Magnus.

This is the way the scene that begins on page 160 in City of Glass, where Clary and Sebastian visit Magnus at Ragnor Fell's cottage, originally read. There was a much more elaborate set-up, which I cut for pacing reasons. Still, the original scene does feature Magnus in harem pants.




"We're here," Sebastian said abruptly — so abruptly that Clary wondered if she really had offended him somehow — and slid down from the horse's back. But his face, when he looked up at her, was all smiles. "We made good time," he said, tying the reins to the lower branch of a nearby tree. "Better than I thought we would."
He indicated with a gesture that she should dismount, and after a moment's hesitation, Clary slid off the horse and into his arms. She clutched him as he caught her, her legs unsteady after the long ride. "Sorry," she said sheepishly. "Sorry — I didn't mean to grab you."
"I wouldn't apologize for that." His breath was warm against her neck and she shivered. His hands lingered just a moment longer on her back before he reluctantly let her go. "I like that coat," he said, his eyes lingering on her as his hands had done a moment ago. "Not only does it feel great, but the color makes your eyes look even more green."
All this wasn't helping Clary's legs feel any less unsteady. "Thanks," she said, knowing full well she was blushing and wishing heartily that her fair skin didn't show color so readily. "So — this is it?" She looked around — they were standing in a sort of small valley between low hills. There were a number of gnarled-looking trees ranged around a clearing. Their twisted branches had a sort of sculptural beauty against the steel-blue sky. But otherwise… "There's nothing here," Clary said with a frown.
"Clary." There was laughter in his voice. "Concentrate."
"You mean — a glamour? But I don't usually have to —"
"Glamours in Idris are often stronger than glamours elsewhere. You may have to try harder than you usually do." He put his hands on her shoulders and turned her gently. "Look at the clearing."
Clary looked. And silently performed the mental trick that allowed her to peel glamour from the thing it disguised. She imagined herself rubbing turpentine on a canvas, peeling away layers of paint to reveal the true image underneath — and there it was, a small stone house with a sharply gabled roof, smoke twisting from the chimney in an elegant curlicue. A winding path lined with stones led up to the front door. As she looked, the smoke puffing from the chimney stopped curling upward and began to take on the shape of a wavering black question mark.
Sebastian laughed. "I think that means who's there?"
Clary pulled her jacket closer around her. She felt suddenly, unaccountably cold — the wind blowing across the level grass wasn't that brisk, but there was ice in her bones nevertheless. "It looks like something out of a fairy tale."
Sebastian didn't disagree, just started up the front walk. Clary followed. When they reached the front steps, Sebastian took her hand. Immediately, the smoke curling from the chimney stopped forming itself into question marks and began puffing out in the shape of lopsided hearts. Clary snatched her hand back, felt immediately guilty, and reached for the door knocker to disguise her embarrassment. It was heavy and brass, shaped like a cat, and when she let it fall it hit the wooden door with a satisfying thwack.
The thwack was followed by a number of popping and clicking noises. The door shuddered and swung open. Beyond it, Clary could discern only darkness. She looked sideways at Sebastian, her mouth suddenly dry. Like a fairy tale cottage, she'd said. Except the things that lived in cottages in fairy tales weren't always benevolent…
"At least it isn't decorated with candy and gingerbread," Sebastian said, as if reading her thoughts. "I'll go in first, if you like."
"No." She shook her head. "We'll go in together."
They'd barely cleared the threshold when the door slammed shut behind them, shutting out all light. The blackness was relentless, impenetrable. Something brushed up against Clary in the darkness and she screamed.
"It's just me," Sebastian said irritably. "Here — take my hand."
She felt his fingers grope for hers in the darkness and this time she seized onto his hand with a feeling of gratitude. Stupid, she thought, clutching Sebastian's fingers tightly, stupid to come in here like this — Jace would be furious —
Light suddenly flickered in the darkness. Two bright eyes appeared, green as a cat's, hanging against the blackness like jewels. Who is there? said a voice — soft as fur, sharp as ice shards.
"Sebastian Verlac and Clarissa Morgenstern. You saw us coming up the walk." Sebastian's voice rang out clear and strong. "I know you're expecting us. My aunt Elodie told me where to find you. You've done work for her before —"
I know who you are. The eyes blinked, plunging them both momentarily back into darkness. Follow the torchlight.
"The what?" Clary turned, her hand still in Sebastian's, in time to see a number of torches flare up in a line, one catching fire from the next, until a blazing path was lit before them. They followed it hand it hand like Hansel and Gretel following the breadcrumb trail in the dark forest, although Clary wondered if the children in the fairy tale had been holding hands quite so tightly…
The ground crunched softly underneath. Looking down Clary saw that the path was lined with shards of gleaming black, like the carapaces of enormous insects. "Dragon scales," Sebastian said, following her gaze. "I've never seen so many…"
Dragons are real? Clary wanted to say, but stopped herself. Of course dragons were real. What was it Jace always said to her? All the stories are true. Before she could repeat that thought aloud, the path opened out and they found themselves standing in a wide-open garden bathed in sunlight. At least, at first glance it looked like a garden. There were trees, whose leaves gleamed silver and gold, and paths laid out between banks of flowers, and in the center of the garden a sort of pavilion with bright silk walls. The torchlit path continued in front of them, leading up to the pavilion, but as they followed it Clary saw that the flowers on either side of the path were ingenious creations of paper and cloth. There were no insects buzzing, no birds chirping. And when she glanced up, she saw that there was no sky overhead, just a painted backdrop of blue and white, with a single blazing light shining down on them where the sun ought to have been.
They had reached the pavilion. Inside it, Clary could just glimpse the soft, moving gleam of candlelight. Her curiosity won out over her nerves and she let go of Sebastian's hand and ducked through a gap in the heavy silk hangings.
Clary stared. The inside of the pavilion looked like something out of an illustrated copy of the Arabian Nights. The walls were gold silk, the floor covered in embroidered rugs. Floating golden balls spilled incense that smelled like roses and jasmine, the scent so thick and sweet it made her cough. There were beaded pillows scattered everywhere and a big low couch, scattered with tasseled cushions. But that wasn't the reason she was staring. She had been prepared for something fantastical, even bizarre. She had not, however, been prepared for the sight of Magnus Bane — wearing a gold mesh vest and a pair of transparent silk harem pants — puffing gently on a fantastically large hookah with a dozen snaky pipe-arms curling out of it.
"Welcome to my humble abode." The smoke that floated up around Magnus' ears formed itself into little stars as he grinned. "Anything I can get you? Wine? Water? Ichor?"
Clary found her voice. "An explanation would be nice. What the hell are you doing here?"
"Clary." She hadn't even noticed Sebastian follow her into the pavilion, but there he was, staring at her in horror. "There's no need for you to be rude."
"You don't understand!" She turned to Sebastian, dismayed by the look on his face. "Something's not right —"
"It's all right, Clary," he said. He turned to Magnus, his jaw set firmly. "Ragnor Fell," he began, "I am Sebastian Verlac —"
"How nice for you," Magnus said kindly, and snapped his fingers once.
Sebastian froze in place, his mouth still open, his hand partially outstretched in greeting.
"Sebastian!" Clary reached out to touch him, but he was as rigid as a statue. Only the slight rise and fall of his chest showed that he was even still alive. "Sebastian?" she said, again, but it was hopeless: she knew somehow that he couldn't see or hear her. She turned on Magnus. "I can't believe you just did that. What on earth is wrong with you? Has whatever's in that pipe melted your brain? Sebastian's on our side."
"I don't have a side, Clary darling," Magnus said with a wave of his hookah. "And really, it's your own fault I had to freeze him outside Time for a short while. You see, you were awfully close to telling him I'm not actually Ragnor Fell."
"That's because you're not actually Ragnor Fell."
Magnus blew a stream of smoke out of his mouth and regarded her thoughtfully through the haze. "Actually," he said, "for all intents and purposes, I am."
Clary's head had begun to ache, whether from the thick smoke in the room or the effort of restraining her overwhelming urge to punch Magnus in the eye, she wasn't sure. "I don't get it."
Magnus patted the sofa beside him. "Come sit down next to me and I'll explain," he purred. "You trust me, don't you?"
Not really, Clary thought. But then again, who did she trust? Jace? Simon? Luke? None of them were around. With an apologetic glance at the frozen Sebastian, she went to join Magnus on the couch.

Editado por Karela

m32j
Mundano





Tema: Re: Partes inéditas...de los libros [Spoilers en ingles] Lun Sep 07, 2009 12:09 am

---

Y MÁS

Outtake 3

Spoiler:

Outtake Three: Valentine and Luke.

In the orginal first draft of Glass, after the Angel brings Jace back to life, Clary and Jace were met at the lakeside by Alec, Isabelle, Jocelyn and Luke, who have come from the battle to join them. This was changed because in the original draft there was no epilogue; so this was all the closure the characters had. I decided an epilogue was necessary to bring them more, and resolve some of what wasn't resolved — Magnus and Alec, Jocelyn and Luke's relationships, for instance. The one thing I was a bit sad to lose was that in the first draft, Valentine had someone to be sorry that he died — in the final version, besides Jace, there really isn't any mention of it.

There were figures racing down the beach toward them, their shadows made ungainly and long by the still-shining glow of the witchlight torches. Clary was glad for the torches now, glad if the glow made her and Jace easier to find. She recognized the running figures as they drew closer — her mother and Luke, and behind them Alec, and Isabelle. Her heart swelled hugely at the sight of them, as if it would crack her ribs apart. She felt as if she were bursting with relief.
It was Luke who reached them first, running along the sand as lightly as if he were still in wolf form. He saw Clary and Jace first and his face lit — and then his gaze went past them, and he saw Valentine, and his face changed.
Jocelyn was just behind him, and as she neared, Jace let go of Clary. She stood up, brushing sand from her clothes, just as her mother reached her and swept her into a hug. After her came Alec and Isabelle, full of exclamations and relief and — joy. They surrounded a shell-shocked-looking Jace, hugging him and shouting in his ears.
Only Luke was silent. Clary, her hand in her mother's, turned to watch him. He had approached Valentine's body and was looking down at it, his face a study in conflicting emotions — there was relief there, but also regret and even sorrow. In death, Valentine's face had lost its hardness and for the first time Clary saw what her mother had once been drawn to about him, saw how he might have seemed gentle and even kind. As Luke knelt down beside his corpse, Clary couldn't help but remember what he had said about having loved Valentine once, about having been his closest friend. Luke, she thought with a pang. Surely he couldn't be sad — or even grieved?
But then again, perhaps everyone should have someone to grieve for them, and there was no one else to grieve for Valentine.
Luke knelt where he was for a long moment. At last he reached out and with a gentle hand, closed Valentine's eyes.
"Ave atque vale, Shadowhunter," he said.

lA PAGINA DONDE LO PODEIS ENCONTRAR ESTÁ AQUI:

http://www.mortalinstruments.com/COGdelete.html

POR FAVOR ALGUIEN QUE NOS TRADUZCA

Editado por Karela

Karela
Miembro superior de la Clave





Tema: Re: Partes inéditas...de los libros [Spoilers en ingles] Sáb Sep 19, 2009 2:54 pm

---

m32j, hay que tener cuidado con los spoilers, aunque sean de partes eliminadas, ya que son del tercer libro...

_______________________________________________

m32j
Mundano





Tema: Re: Partes inéditas...de los libros [Spoilers en ingles] Sáb Sep 19, 2009 10:31 pm

---

perdon, perdon...perdon.......perdon...no me he dado cuenta....

nelly fairchild
Hada





Tema: Re: Partes inéditas...de los libros [Spoilers en ingles] Dom Sep 20, 2009 2:47 am

---

crei que serian

cambios mas grandes.

Spoiler:

me gusta mas la parte eliminada en Wayland manor house. me gusta mas por que el momento en el que Jace y Clary se besan, dura mas y es mas intenso

yosoyjavier
Mundano





Tema: Re: Partes inéditas...de los libros [Spoilers en ingles] Jue Ene 28, 2010 3:56 am

---

yo no las quiero leer por que todavia no leo el tercer libro jeje

Rakiu23
Mundano





Tema: Re: Partes inéditas...de los libros [Spoilers en ingles] Vie Mar 12, 2010 3:24 pm

---

*O*

Spoiler:

El de Jace y Clary me ha dejao *O*
Ojalá hubiera kedao así en el libro!
Con lo ke me encantó esa escenaaaaa~

Sarinda
Nefilim





Tema: Re: Partes inéditas...de los libros [Spoilers en ingles] Jue Abr 15, 2010 7:52 pm

---

Yo ya las he traducido y estan en la parte Ciudad de Cristal (spoilers), alli encontrareis escenas eliminadas, solo he traducido dos pero si os gustan puedo traducir mas. Opinad sobre ellos por favor.

Contenido patrocinado






Tema: Re: Partes inéditas...de los libros [Spoilers en ingles]

---

| | | |
| --- | --- | --- |
| | Partes inéditas...de los libros [Spoilers en ingles] | |

| | |
| --- | --- |
| Temas similares | |




Permisos de este foro:
No puedes responder a temas en este foro.